MAPPING INSTITUTE
The Ramat Aviv Medical Center operates a state of the art nuclear medicine institute specializing in nuclear cardiology and general medicine.
The institute performs mapping using the innovative technique known as SPECT.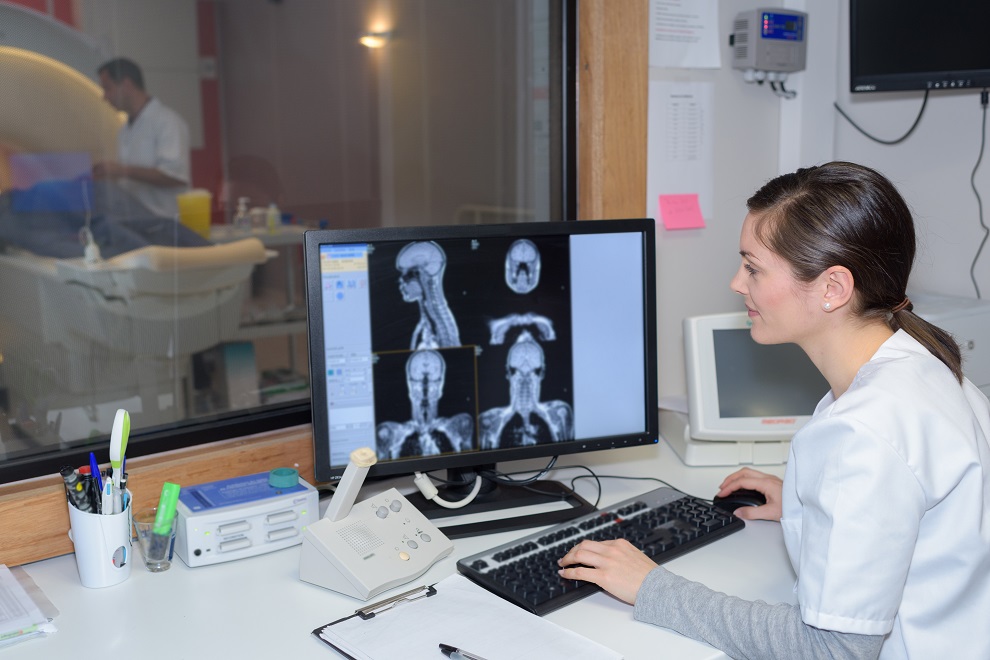 The Ramat Aviv Medical Center Mapping Institute is equipped with nuclear apparatus and digitized work station which spearhead their field. Having such advanced equipment provides an informative, reliable and precision image of the body part of functioning under examination.
Nuclear mapping lets physicians gain medical knowledge that cannot be gained through other mapping methods. The level of precision allows physicians to take the necessary treatment decisions in the earliest stages of a disease, which greatly increases chances for successful treatment. 
How is mapping performed?
After injection a radioactive substance into the client's vein, the double headed gamma camera identifies the radiation emitted by the body. Using a computer of a unique kind in Israel, the data is processed to allow quantification and digitized representation.
The radioactive material to which clients are exposed is personalized to a high level of precision for the type of examination.
"Infinia" – advanced double headed camera 
The Ramat Aviv Medical Center Mapping Institute operates a double headed gamma camera equipped with cutting edge technology. The INFINIA system is produced by Medical Systems GE, and offers full automatic mapping of all body parts. Images primarily use the Spect Gated Mibi method for fully automated body imaging from head to toe.
The operational and decoding programs are automatic, fast, and produce precision images of the highest quality. 
Advantages of the INFINIA system
Produces far higher quality diagnostic images than previously possible 
Technologically and ergonomically most advanced system. The double headed camera provides excellent flexibility, which allows taking images from the client in various positions: lying down, standing, seated. This is especially useful for clients in wheelchairs.
Infinia is activated by a highly professional team of technicians and skilled physicians
Infinia can be integrated with additional technologies such as CT images, in one functional output
The Ramat Aviv Medical Center Mapping Institute recently underwent expansion and renovation, with new stress rooms and work stations installed. Currently the Mapping Institute operates two advanced double headed cameras. The Institute is set up to handle a large number of clients and operates throughout most hours of the day.
For more information, details or to set an appointment, call us on 03-6401234 
Types of mapping conducted at the Ramat Aviv Medical Center Mapping Institute 
General mapping

Kidney mapping

Skeletal mapping

Glandular mapping

Marked red blood cell mapping

Liver mapping

Bone mapping – SPECT

Cardiology mapping

SPECT 3D heart mapping: testing blood supply to heart muscles at rest and stress levels

Atherosclerosis: physical activity / fast walking on treadmill or by taking medication which replaces the stress test 

Heart Technetium (MOGH at rest) to quantify left and right ventricle functioning
Ramat Aviv Medical Center Mapping Institute staff
Institute tests are performed only by physicians specializing in nuclear medicine in the field of mapping, and specialists in cardiology specialized in nuclear radiology.
Mapping technicians at the Ramat Aviv Medical Center Mapping Institute consistently update on latest developments in their field.
The Institute operates according to latest protocols and professional literature.
Institute director: the Institute and all its relevant departments are managed by Dr. Adam Steimetz
Senior physicians: the Institute employs specialists in general nuclear mapping headed by Dr. Maloul.
The nuclear cardiology division employs specialists in cardiological mapping headed by Dr. Nili Tzafrir.
For more information, details or to set an appointment, call us on 03-6401222 / 234