Mammography and Breast Ultrasound Unit
Early detection, reliable outcomes, and precision decoding, improve your chances of recovery from breast cancer by 90%.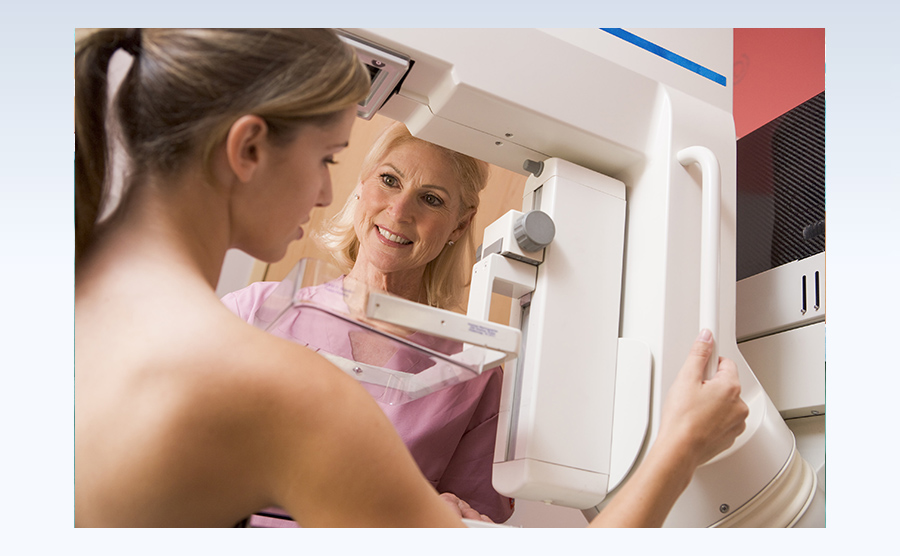 Ramat Aviv Medical Center employs the most advanced equipment in Israel integrated with professional diagnosis conducted by highly experienced experts in their field to avoid errors and ensure you receive the most accurate results possible.
Accurate diagnosis.

The mammography equipment we use performs a 3-dimensional set of crosscuts (instead of just one). This allows identifying even the smallest of findings. The device emits very low radiation compared to other mammography equipment currently in use.

Clear images.

Among the most advanced in the world, our ultrasound produces a 3-dimensional image of the full breast volume. Extremely high image resolutions enable precision decoding.

Professional responses.

Results are examined by our specialists, who have extensive knowledge and experience in their field.
Advanced technology, accurate results and short wait times (compared to public hospitals) are key to ensuring early detection of breast cancer.
Breast cancer – it can be stopped!
Breast cancer is the most common malignant tumor among women. One in every 8 women in Israel may develop this illness. Every year some 5,000 new cases of breast cancer are diagnosed in Israel.
Despite the unpleasant data, if discovered early enough, the chances of full recovery are extremely high, at up to 90% and more.
What is a mammography?
A mammography is a breast x-ray. This specific type of x-ray reveals small lumps that a woman or her physician may not have detected by touch alone.
The mammography is quick and simple, and carried out by placing the breast between two panels which press against it and flatten it. Admittedly the pressure can cause some discomfort but the test only lasts 1 to 2 minutes.
What is the ultrasound test?
An ultrasound device emits and absorbs sound waves at high frequencies. These radio waves are analyzed by a computer program and turn into an image displayed on the screen. The image allows identifying differences in breast tissue density and diagnosing solid lumps or cysts.
The test is simple, easy, short, does not cause pain and does not require advance preparation. No radiation is emitted and it is perfectly safe, even for pregnant women.
Are both a mammography and an ultrasound recommended?
Integrating both tests gives the highest probability of locating and identifying lumps and changes in the breast.
For young women, women at high risk, or women with lumpy breast tissue, the ultrasound is more effective and reliable.
Please make sure to bring the findings (images and decoded results) of any earlier tests for the sake of comparison.
Do I have to do a mammography?
Currently specialists recommend that every woman between 50 and 74 have a mammography test once every 2 years.
Breast cancer can also derive from hereditary sources. If anyone in your immediate family has a history of breast cancer you are at higher risk and should be tested annually from the age of 40 and up until age 50, and every 2 years after that.
In any event we recommend consulting with your gynecologist about frequency of testing.
What happens if a suspicious finding is discovered?
If the mammography or ultrasound point to a possibly malignant tumor, we will take a biopsy, which requires local anesthesia. Using a needle, the specialist will take a small sample of your breast tissue.
The biopsy is sent for testing in a pathology laboratory. Once results are returned, the specialist will explain them to you and make follow-up recommendations or suggest treatment.
The Mammography and Ultrasound Unit team
Dr. Itai GADIEL
Dr. Ahuva GROBSTIEN
Dr. Rahel KENAN
Early diagnosis of breast cancer can vastly improve the chances of recovery
Enjoy professionalism and a warm attentive atmosphere when you visit Ramat Aviv Medical Center Mammography Unit
For more information, details or to set an appointment, call us on 03-6401222