Prof. Levinstein Anat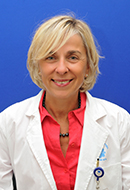 specialization: detection and treatment of retina diseases
Prof. Anat Loewenstein is one of the top retina specialists and surgeons worldwide, and is an expert in detection and treatment of retina diseases. Thanks to her global reputation and extensive professional knowledge, many patients around the world come to consult with and be examined by her.
Her main areas of expertise are AMD (age-related macular degeneration), including early detection and treatment modalities, retinal vascular occlusion, retinal detachment, retinal breaks.
Prof. Loewenstein's Medical Clinic provides Medical procedures such as Intraocular injections, Retinal laser treatment and various surgeries. The Clinic's staff will be delighted to provide further information.
Anat Loewenstein, MD is a Professor of Ophthalmology, and serves as the vice Dean of the Faculty of Medicine and Incumbent of the Sydney A. Fox Chair in Ophthalmology, Sackler Faculty of Medicine at Tel Aviv University, and is also director of the Department of Ophthalmology at the Tel Aviv Medical Center in Tel Aviv, Israel.
After attending the school of medicine at the Hebrew University in Jerusalem and a residency in the Department of Ophthalmology at the Tel Aviv Medical Center, she completed a fellowship in retina vascular diseases and vitreoretina surgery unit at the Wilmer Eye Institute at Johns Hopkins University Hospital in Baltimore, Maryland.
Prof, Loewenstein led the development of a cutting edge technology for early detection of macular degeneration. Prof. Loewenstein has numerous publications in peer reviewed journals and ophthalmology textbooks and is a member of several national and international ophthalmological societies. Additionally, she participates in various national and international meetings each year, frequently as an invited speaker.