Dr. Daniel Oved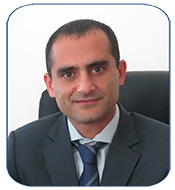 specialization: Neurology
Dr. Daniel Oved is a senior doctor with a specialty in Neurology and is a graduate of the faculty of medicine at the Technion.
He is also certified from the school of medical acupuncture, exclusively for doctors in the field of pain control in America, from Helms Medical Acupuncture for Physicians, in cooperation with the prestigious school for medicine at Stanford, UCLA in the USA.
Dr. Daniel Oved is a senior physician in the Neurology Unit of Laniado Hospital and is director of a private clinic for treating headaches and chronic pain in the outpatient clinics of Laniado Hospital.
Dr. Daniel did his specialty in Neurology in Beilinson Hospital.
Dr. Daniel did post-graduate training in the specific specialty of treating patients who suffer from headaches under the direction of Dr. Aryeh Kortzki-one of the leaders in the field of headache treatment in Israel.
His many years of experience together with the great number of patients he has treated have led him to research the field of acupuncture for treating pain, as western medicine alone has not succeeded in giving a suitable answer to this complex problem.